Kinesio Physical Therapy & Sports Rehabilitation is an independently owned physical therapy practice in Severna Park, Maryland. Owned and operated by Faith Hagerty, P.T., cert. MDT, CSCS, Kinesio Physical Therapy & Sports Rehabilitation provides a professional and personal approach to patient care, and the support you need to heal, in a friendly, restorative environment. These steps to success include:
Assessment: A thorough history and testing of movements to identify distinct patterns of pain that are reproducible, objective and reliable.
Treatment: Identifying the directional preference (i.e. what patient motion eases the symptoms/pain and restores function.)
Prevention: Those who respond favorably can successfully treat themselves-and minimize the number of visits to the clinic-when provided the necessary knowledge and tools to put him or her in control of their treatment safely and effectively.
We are currently scheduling discovery visits that will allow you to meet with your physical therapist to have any questions answered. This will help you get to know us to allow you to make well informed, educated decisions regarding your healthcare and see if we are the right fit for each other. **(No treatment will be performed during this 15-30-minute session.) ** Spaces are limited. Call 443-795-4191 to schedule your discovery visit today!!
Our Clients Say
"I have never had P.T. like this before. I feel so much better. I was back to my exercise routine faster than I imagined." – Meg C.
"The total body approach really helped my shoulder pain resolve quickly." – Edward L.
"I can't believe how much I learned and it feels great that I learned how to fix myself." – Lily S.
"I feel (my P.T.) really listened to my concerns and cured my back pain in a couple of visits." – George W.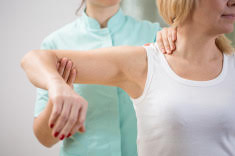 Contact Us (443) 795-4191
Practice Location 821 W BENFIELD RD Suite 7 SEVERNA PARK, MD 21146-2220
Follow Us
Sign up for our newsletter